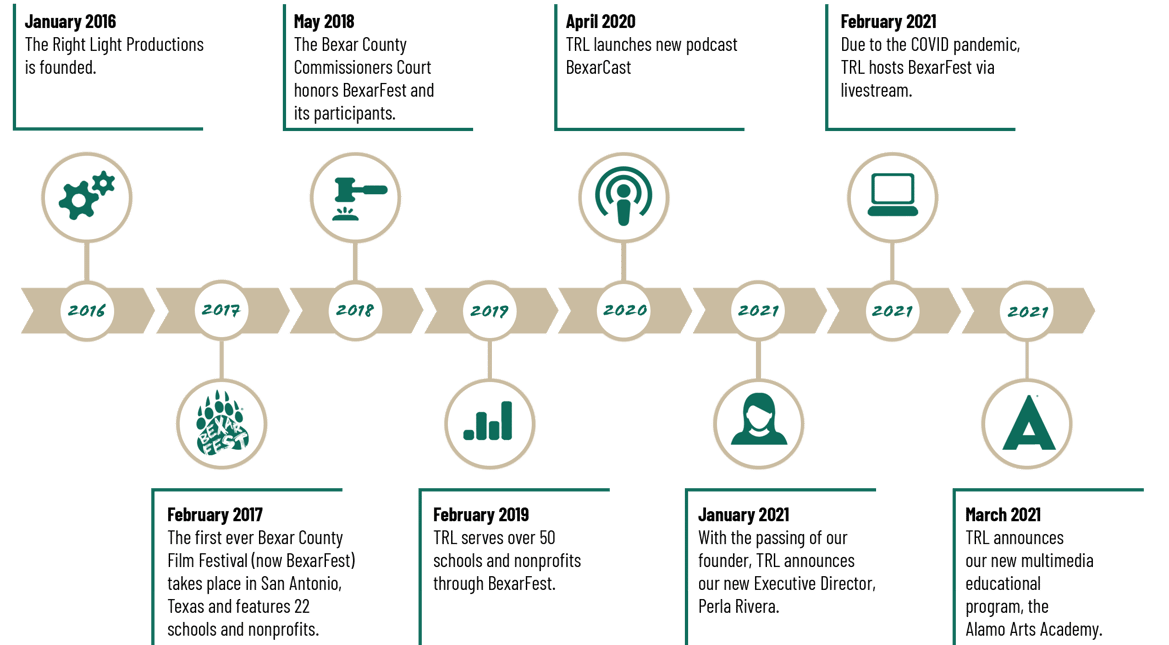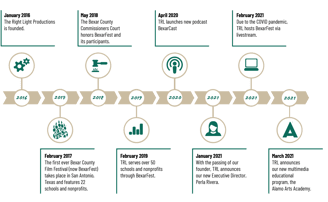 TRL Productions, a 501 (c) 3, was founded in 2016 by local media professionals in San Antonio, TX. They recognized a need in our community to provide youth with film experience while also supporting local nonprofit organizations with much needed outreach tools.
Thus, the mission of The Right Light Productions became "to provide pathways where young creatives have access to resources and opportunities which will positively impact students and their communities.
TRL is led by a Board of Directors who bring diversity of person, perspective and skillset. From graphic design to curriculum development, marketing and branding to digital filmmaking and audio engineering, the TRL Board is well-versed in the field of multimedia production.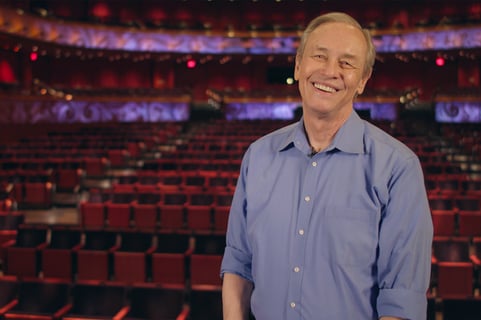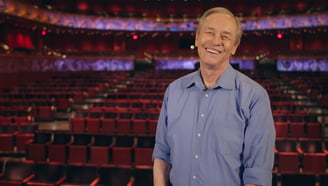 Since 2017, TRL Productions has produced annual multimedia festival, BexarFest and continues to achieve its mission to serve youth and nonprofits alike. Over the last six years, BexarFest has resulted in over 1,000 students from 60 educational organizations, in 21 school districts, creating media outreach tools for 115 nonprofit organizations, with an estimated market value of over $400,000. Check out our BexarFest Page for examples of our students' incredible work.

On January 14, 2021, TRL Productions' co-founder and beloved Executive Director, Randy Lankford, suddenly passed away. Known city-wide as a writer, producer, advocate and visionary, Randy's friendship and leadership was a significant loss to the TRL Productions organization. To carry on Randy's memory, each year we proudly choose a deserving BexarFest student team to receive the Randy Lankford Humanitarian Award.
Randy's legacy was left in good hands. The TRL Productions Board of Directors jumped to action and called an emergency meeting in January 2021. They unanimously elected Perla Rivera Calvo to lead TRL Productions as the new Executive Director. "Randy's vision was to build a one-of-a-kind organization that provided hands-on education to kids while giving something back to the community. And to continue his dream, we knew we had to have someone who could pick up where Randy left off and who brought with them experience leading an organization within the multimedia industry. We were fortunate to find those qualities in Perla," said Buddy Calvo, Board President. "Perla is the perfect choice to lead TRL on the next part of its journey."

The following two years were ones of progressive organization building and strategic planning. In 2022, TRL launched its brand new multimedia education program, Alamo Arts Academy. What began as an organization looking for a way to create marketing assets for nonprofits, has now transformed into a multimedia educational leader for our communities' youth. As a result, TRL has cast an even wider vision to not only produce BexarFest to showcase young creatives' abilities and nonprofits' missions, but also oversee Alamo Arts Academy to develop these skills.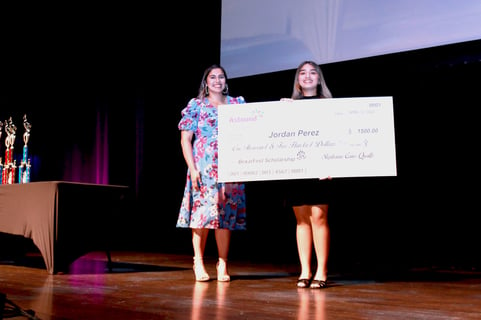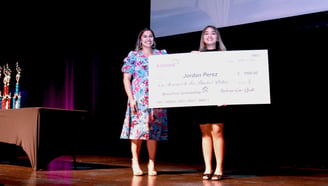 "TRL has an exciting chapter ahead and I am happy to
be a part of supporting its mission, building the
program, and forging partnerships that serve our
community and honor Randy's legacy."




TRL Productions' executives and board members have been putting the pieces in place to scale our programs over the next 1, 3, 5, 10, and 15 years. That means we mean business! We're excited to build the foundation with planned staffing, TEKS curriculum builds, new and improved volunteer and sponsorship opportunities, partnership building, and most of all innovative student resources. We're making waves and we'd love you to be a part of what we're doing!
How do
YOU
fit into TRL's future?
Click the crystal ball learn more about two crucial ways to get involved!